Our specialists have been refinishing pool furniture since 1980. We pride ourselves on treating our customers fairly, being on-time and offering service above and beyond what our competitors offer. We have installed over one million vinyl straps and thousands of slings. We keep our costs down and in turn save our clients money. Give us a call and you won't be disappointed.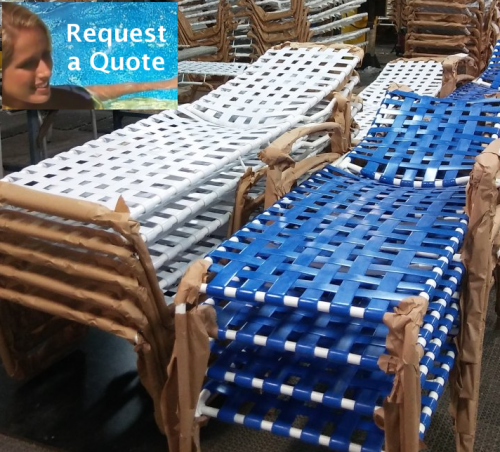 Our formula for success is simple:
We say what we'll do and we do what we say. Our word is our bond. We offer the best products available at the most competitive prices possible.
Beautiful fashionable commercial quality designs.

Chairs and lounges are stackable.

All frames are of heavy-gauge, heliarc-welded, rust-proof aluminum.

The best 100% virgin vinyl with over 50 colors available, chemically made with UV inhibitors to resist mildew and deterioration from sunlight and weather.

State-of-the-art powder coated finish to protect against salt and corrosive environments, with superior impact and chip resistance.

Double wrapped professional strapping technique.

All pivot points have strong 1/4 inch stainless steel bolts.

Solid aluminum skids are standard.